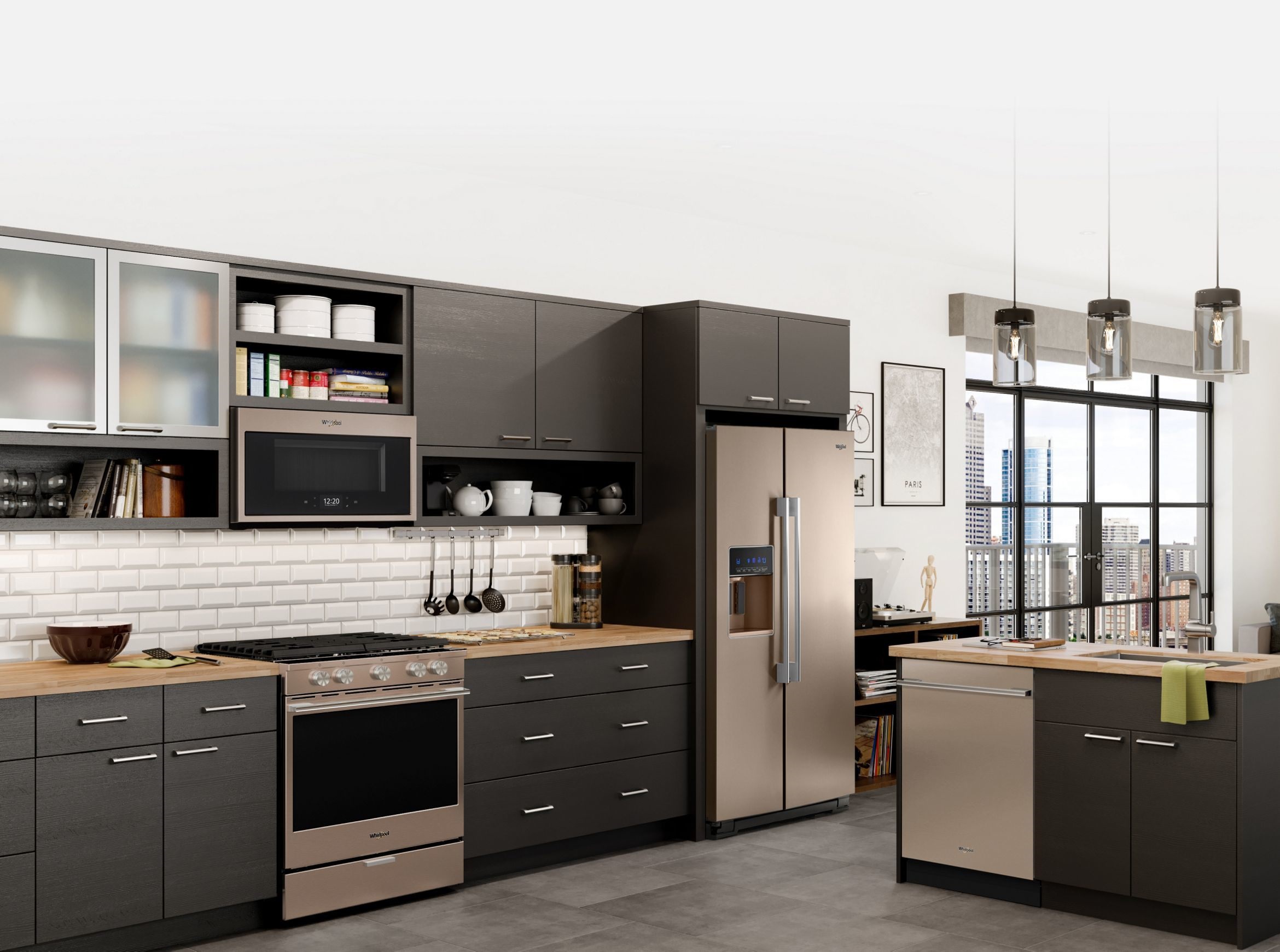 Image courtesy of Whirlpool.
The Whirlpool brand offers state-of-the-art appliance technology paired with the latest twist to stainless steel in their new line of Sunset Bronze appliances. When redesigning or installing a new kitchen, the innovative hue of the Sunset Bronze kitchen appliance suite can transform your space with its interesting rose gold tones.

The appliance line features a fingerprint-resistant satin finish, so the only thing that will catch your eye is the soft metallic color. Whirlpool offers their Smart Appliance Technology feature in much of this collection. Simplify your life by controlling your oven temperature or starting the dishwasher from your smartphone or tablet. Whirlpool has also paired some of the Sunset Bronze collection with Google Home products which allows you the freedom to run your kitchen by using voice commands.

The Sunset Bronze finish nicely compliments the use of brass and gold fixtures having a resurgence in today's home design as well as adding an exciting take on the mid-century modern style. The soft rose-gold tone will enhance dark cabinetry or bring interest to a white kitchen. No matter what cabinetry you select, this collection will add an inviting element not found in the cooler tones of stainless steel appliances. The finished look will create a modern statement, yet remain timeless.

The Sunset Bronze line will undoubtedly elevate your kitchen space with a collection that includes slide-in gas and electric ranges, dishwashers, over-the-range and countertop microwaves, dishwashers, a selection of refrigerators, and single and double wall ovens. The ranges and wall ovens offer True Convection for evenly cooked entrees or use Whirlpool's Scan-to-Cook Technology feature where a frozen food barcode scan from your smartphone can send the cooking instructions straight to the appliance for convenient meal preparation.

To experience the new Sunset Bronze collection from Whirlpool please visit our location and learn more about the latest designs and technology Whirlpool has developed to make your life easier.