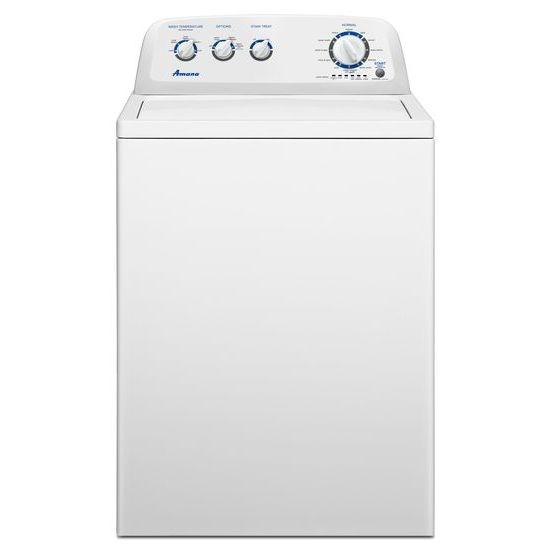 3.8 cu. ft. HE Top Load Washer with Energy and Water Savings - white
Amana
AMN:NTW4750BQ
High-Efficiency Top Load Washer - Save water and energy with this high-efficiency washer. This washer uses up to 73% less water and 81% less energy.* And it doesn't just help you conserve natural resources, this machine can help you save over $2,000 in lifetime water and energy costs.** *Compared to pre-2004 traditional washers. **Compared to pre-2004 traditionalwashers using normal cycle, based on 11-year average life.
3.8 cu. ft. Capacity - Now you can wash more in a single load with our largest capacity top load washer ever, at 3.8 cu. ft., helping you save money and resources. This means fewer loads every week and fewer loads mean fewer resources.
Auto Load Sensing - To help save water and energy, built-in auto load sensing measures the size of the load and uses the optimal amount of water for the volume of clothing and cycle selected. Now you never have to worry about using too much.
12 Wash Cycles - Clean with high-efficiency. This washer offers 12 was cycles to handle a wide variety of laundry chores ranging from delicate to bulky items like blankets and jackets. Plus, there's a clean washer cycle with affresh(R) Washer cleaner as well.
Stainless Steel Wash Basket - Durable stainless steel maintains it's smooth surface, resisting scratches and rust to help prevent snags and stains on fabrics.
800-RPM Max Spin Speed - Get laundry done even faster. The impeller in this washer helps make spin speeds of up to 800 RPM possible. Higher spin speeds remove extra water from clothes so they take less time to dry. The lid locks during spinning for safety.
Wide Opening Washer Lid - It's easy to add large items like blankets and sheets with this wide opening washer lid. Moving wet clothes from the washer to the dryer is also less of a chore.
Cycle Status Bar - Easily see where your load is in the cleaning process with the indicator lights on the cycle status bar.
Advanced Suspension System - The advanced suspension system senses each load and stabilizes the wash basket.
Automatic Temperature Control - The automatic temperature control sensors monitor the flow of incoming water, adjusting as needed to maintain the temperature you select and keep cleaning consistent.
Stain Treat Option - The Stain Treat option uses additional cleaning time and wash motions to help you handle tough stains and heavily soiled loads.
Clean Washer Cycle with affresh(R) Washer Cleaner - Just what every high-efficiency washer needs. Use the Clean Washer cycle monthly to help remove detergent residue from inside the washer. Recommended affresh(R) Washer Cleaner provides a thorough clean.
Quick Wash Cycle - Use the Quick Wash cycle to wash small, lightly soiled loads of two to three items that are needed in a hurry. Increased spin speeds help remove more water for faster drying.
Super Wash Cycle - Use this cycle for heavily soiled or sturdy fabrics. It combines the maximum wash time and higher temperatures to help remove set in stains.
Casual Cycle - Use this cycle to wash no-iron fabrics like sport shirts, blouses, casual business clothes, permanent press and blends. A lower spin speed helps keep them wrinkle-free.
Delicate Cycle - Stop handwashing delicate garments. Slow spin speeds and a gentle wash motion effectively clean delicate items.
Drain & Spin Cycle - Use this cycle to drain your washer or to drain and spin your wash load.
Normal Wash Cycle - The perfect cycle for your everyday laundry loads or loads with a variety of fabric types. Choose from regular, heavy or light soil levels.
Extra Rinse Option - The Extra Rinse option adds an additional rinse to most wash cycles to help remove any remaining soil or detergent.
Rinse & Spin Cycle - A cycle for loads that only need a quick rinse.