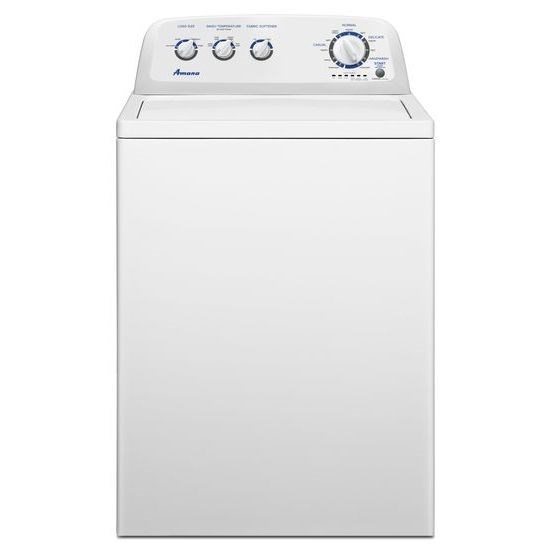 3.4 cu. ft. Top Load Washer with Dual Action Agitator - white
Amana
AMN:NTW4700YQ
Load Size Options - Wash smaller loads without the guilt. Up to four water level choices, depending on model, allow you to match water used to load size, helping reduce water waste.
11 Wash Cycles - From dirty work clothes to hand washables the 11 different cycles on this washer make it easy for you to clean whatever comes your way.
Spreckle Porcelain Wash Basket - A smooth porcelain surface resists scratches and odors, unlike plastic tub models, protecting fabrics from snags. Spreckle gray color makes it easy to spot small items like white socks.
700 RPM Max Spin Speed - Drying begins in the washer. Spin speeds of up to 700 RPM help remove water from clothes so they take less time to dry.
Wide Opening Washer Lid - It's easy to add large items like blankets and sheets with this wide opening washer lid. Moving wet clothes from the washer to the dryer is also less of a chore.
Dual Action Agitator - The two pieces of this agitator move independently to roll clothing through the bottom of the wash basket for a thorough, even cleaning.
Cycle Status Bar - Easily see where your load is in the cleaning process with the indicator lights on the cycle status bar.
Advanced Suspension System - The advanced suspension system senses each load and stabilizes the wash basket to reduce vibration and noise. Now your washer can go places it's never been before like in living areas, upstairs or near bedrooms.
Automatic Temperature Control - Sensors monitor the flow of incoming water, adjusting as needed to maintain the temperature you select and keep cleaning consistent.
Fabric Softener Dispenser - Don't worry about missing the rinse cycle. Add fabric softener at the beginning and this dispenser releases it at the right time.
Casual Cycle - Use this cycle to wash no-iron fabrics like sport shirts, blouses, casual business clothes, permanent press and blends. A lower spin speed helps keep them wrinkle-free.
Delicate Cycle - Stop handwashing delicate garments. Slow spin speeds and a gentle wash motion effectively clean delicate items.
Drain & Spin Cycle - Use this cycle to drain your washer or to drain and spin your wash load.
Normal Wash Cycle - The perfect cycle for your everyday laundry loads or loads with a variety of fabric types. Choose from regular, heavy or light soil levels.
Rinse & Spin Cycle - A cycle for loads that only need a quick rinse.